Have you ever wanted to go kayaking but been put off by the thought of lugging your kayak to the water? Or maybe you have a kayak but find it difficult to transport by yourself. If either of these sounds like you, then a kayak cart could be the solution.
Kayak carts are designed to make it easy to transport your kayak from your car to the water's edge. In this blog post, I will show you how to use a kayak cart and share tips on choosing the right one.
So, if you're ready to learn more about kayak carts, read on.
Key Takeaways
A kayak cart is a great way to transport your kayak from one location to another.
There are many different types of kayak carts on the market, so it is important to find one suitable for your specific kayak and needs.
Before using a kayak cart, read the instructions carefully and follow them closely.
Once you have your kayak cart, simply attach it to your kayak and use it to move the kayak around.
Keep an eye on your surroundings while using a kayak cart, as they can sometimes be unstable.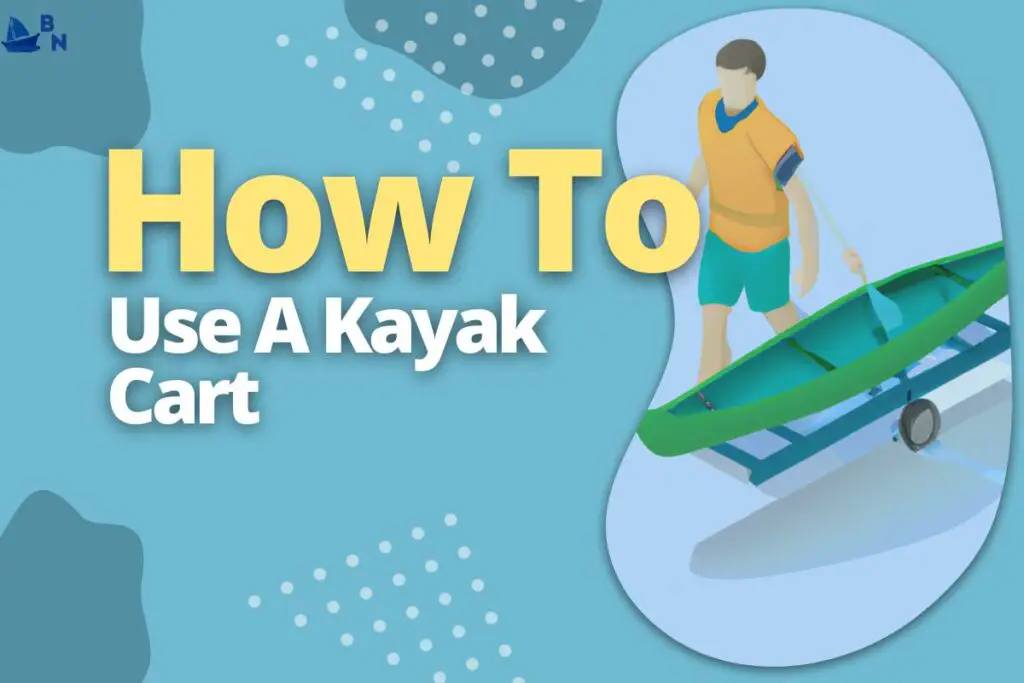 Here's The Answer To How To Use A Kayak Cart
A kayak cart is a great way to transport your kayak from one body of water to another. But how do you use a kayak cart?
Here are some tips on how to use a kayak cart:
Ensure that the kayak cartwheels are inflated to the proper pressure. This will ensure that the cart rolls smoothly and doesn't get bogged down in sand or mud.
When loading your kayak onto the cart, ensure the weight is evenly distributed. This will help keep the cart from tipping over when rolling it over uneven terrain.
If possible, try to find a mostly flat route when using your kayak cart. This will make pushing easier and won't put as much strain on your arms and shoulders.
When unloading your kayak from the cart, be careful not to tip the cart over. Again, this can be prevented by ensuring that the weight is evenly distributed when loading and unloading the kayak.
By using these straightforward suggestions, you may utilize your kayak cart with ease and take pleasure in hassle-free kayak transportation.
Kayak Carts Make It Easier To Transport Kayak From The Water To Your Vehicle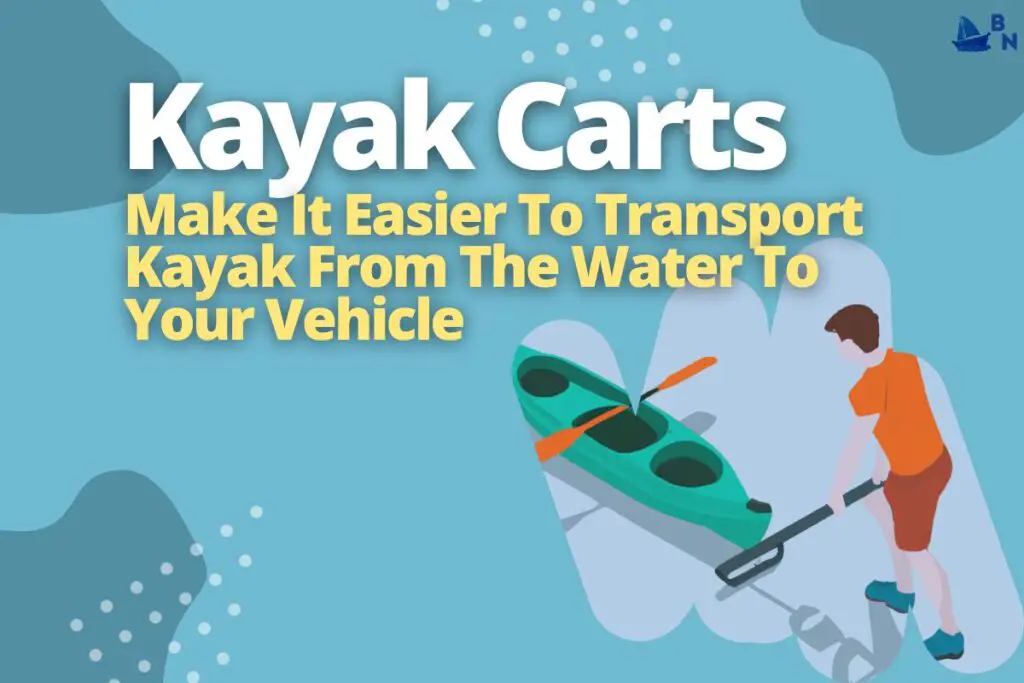 A kayak cart is designed to make it easier to transport your kayak from the water to your vehicle or wherever else you need to take it. This saves time and energy and makes it easier for you to get back in the water sooner.
Kayak carts can also be used for other things, such as transporting groceries or moving furniture. So they may be one of the most useful purchases ever!
Ensure That The Tires Are Inflated And In Good Working Order
Before you buy a kayak cart, make sure to check the tires. You want them to be at least 20 psi and in good working condition. If they are not inflated or worn out, this could damage the wheels or your kayak.
Next, we want to ensure our tires are in good condition and have appropriate treads on them so that our cart can handle rugged terrain without any problems or issues whatsoever (this goes without saying).
We also want to look at the wheel bearings; if they're not doing well, it will affect how smoothly your cart moves when used outdoors. And what's more important than efficiently getting from point A to point B?
Last but not least: check those wheels! Make sure there aren't any cracks/damage before using them outdoors because this could directly lead to trouble moving smoothly between locations while out there doing stuff.
To Use A Kayak Cart, First Place The Kayak Onto The Cart And Then Secure It In Place
You first need to place your kayak on the cart and secure it in place. If the kayak is too heavy for one person to lift, make sure you have a friend or family member help you with this step.
If your kayak is too light, don't worry about securing it in place because there's no real danger of it falling off.
Next, unload your gear from your vehicle and put it into the back seat or trunk of a car so that you can load up everyone else's stuff in there (you may also want to keep some snacks handy).
Once The Kayak Is Secured, You Can Then Begin To Push Or Pull The Cart To Your Desired Location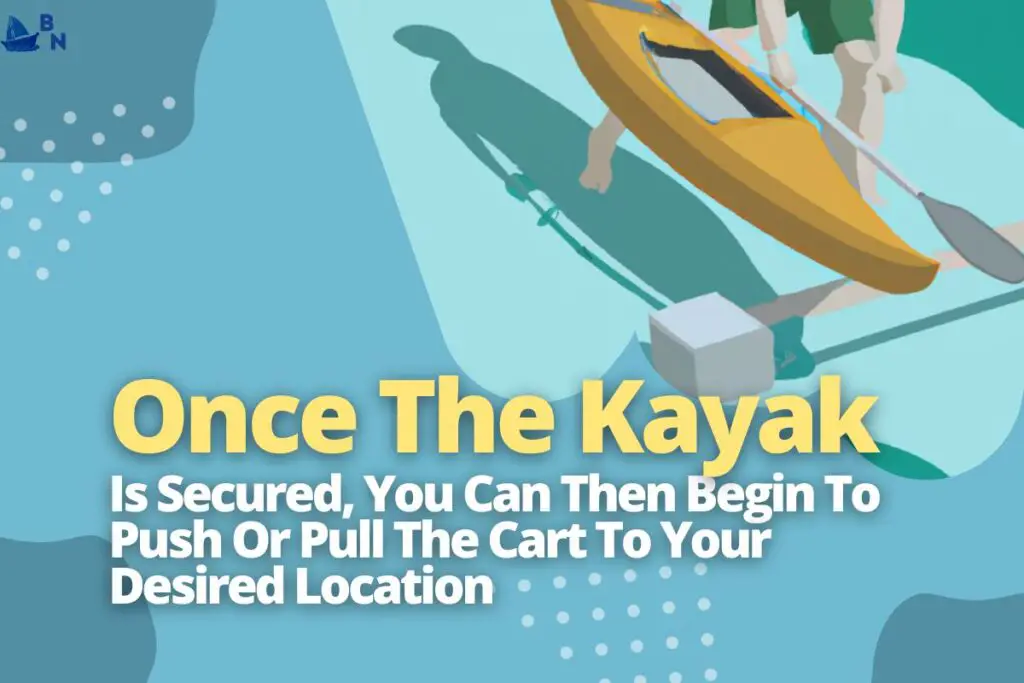 Once you have secured your kayak onto the cart and are ready to transport it, you can begin to push or pull the cart to your desired location.
You may want to use a towel or other protective covering for the wheels of your kayak to prevent scratches. You may also want to use the brakes if you notice that the cart is moving too fast for your liking.
When Not In Use, Be Sure To Store Your Kayak Cart In A Dry And Safe Place
When not using your kayak cart, keep it in a dry, secure location. Your garage or shed is a great option for this. Ensure that the cart isn't exposed to the elements, or you may run into problems with rusting and corrosion.
You also don't want to store it in your living room! Keep in mind: even if you're storing your cart after every use, there's still going to be a period where it's not being used at all (like when you go on vacation).
Err on the side of caution and look for a different location if you are unsure whether a particular location is secure enough to store your kayak cart.
How To Maintain A Kayak Cart?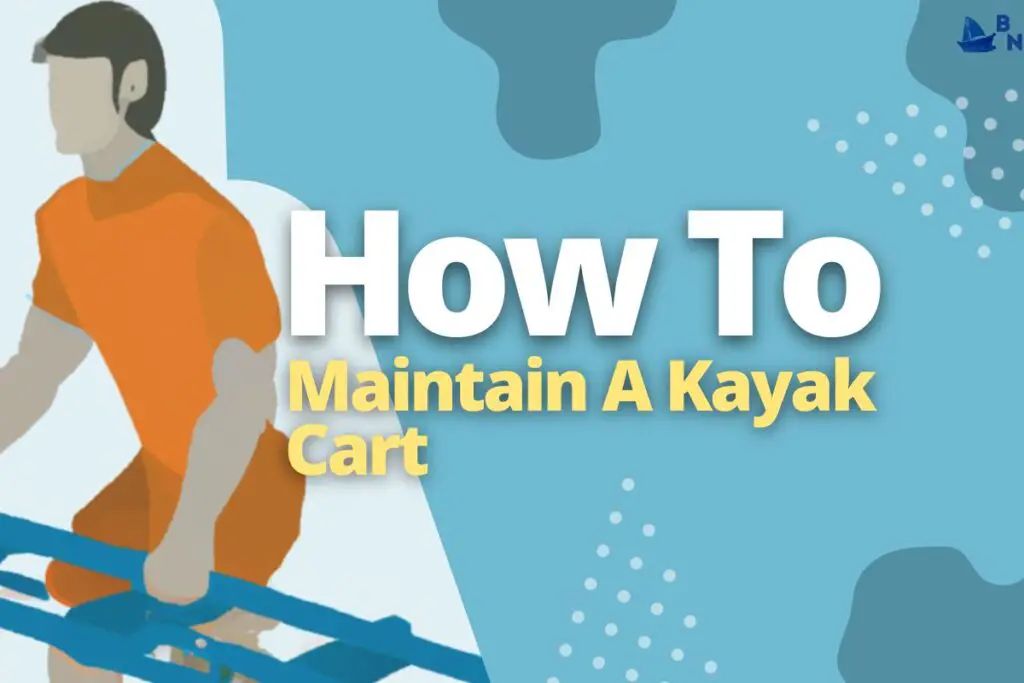 Clean the tires and wheels with soap and water.
Check the tire pressure regularly.
Check the brakes regularly (if any).
Check the straps and buckles for wear and tear, rust, or broken parts.
Inspect wheels for wear and tear, corrosion on their metal parts, etc., especially if they are older than six months or so, while using your cart outdoors in any weather conditions (rain/snow/fog).
How To Store A Kayak Cart In The Garage?
Before you store your kayak cart, ensure it's clean and dry. Dust off dirt or grime, and wipe the tires with a rag or towel.
Then, place the cart on a flat surface in an area of dryness and safety—like a garage floor or storage space. Remember that your kayak needs as much protection from moisture during storage as it did when out on the water.
If left wet, wood can warp or crack over time; metal parts can rust; plastic pieces may become brittle and breakage-prone, and rubber tires will lose their shape (and therefore traction) if stored under heavy loads of other items like clothing bags or tools.
In addition, keep your kayak cart away from moisture-inducing sources such as rainwater leaks above ground level, where they might drip onto them while being stored during inclement weather conditions (if this is possible).
How To Choose The Right Kayak Cart?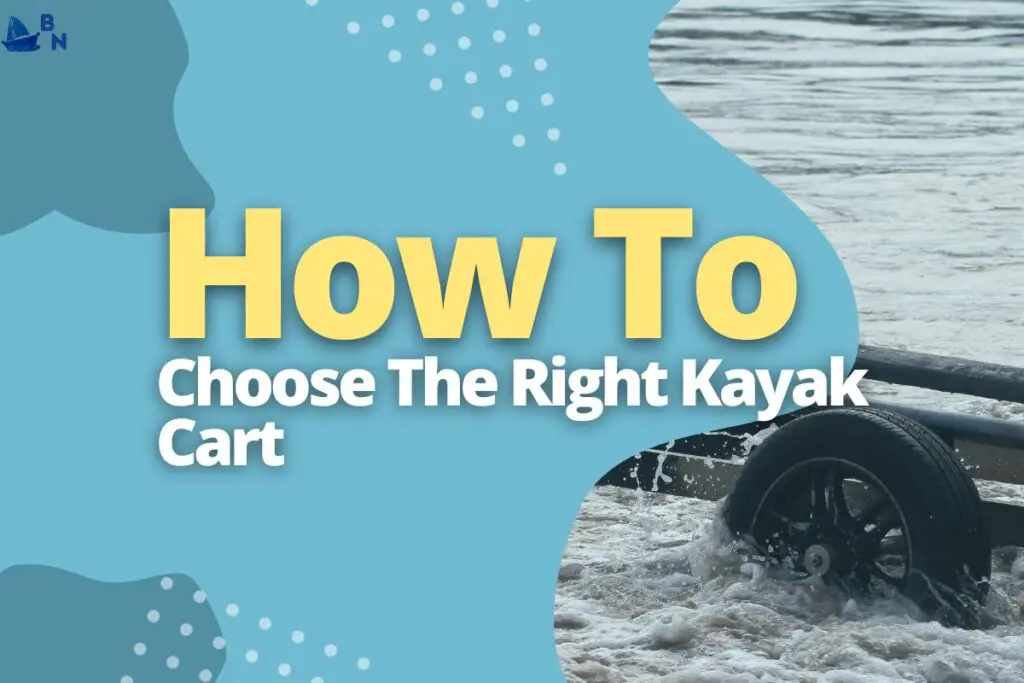 Compatibility: A kayak cart should be compatible with your kayak. It should fit securely and safely on the back of your vehicle.
Size: The size of a kayak cart is important because it will dictate how easily you can maneuver it through tight spaces, such as those found in parking garages or small driveways.
Several wheels: Your convenience and safety may depend on how many wheels are featured on your kayak cart. You want a number that will allow you to move over uneven surfaces without tipping over or getting stuck.
Type of wheel(s): Several types are available today, including spoked, solid rubber tires, and airless plastic wheels. Compared to other solutions accessible today, each offers benefits and drawbacks. However, the most important consideration is finding one that works best for both purpose and budget considerations.
Conclusion
You may move your kayak easily from one place to another by using a kayak cart. Choosing the correct kayak cart is crucial because there are numerous varieties on the market. Once you have a kayak cart, you will need to know how to use it properly.
First, use a kayak cart to ensure that the tires are inflated to the proper pressure. Next, place the kayak onto the cart and secure it with straps or cords. Once the kayak is secured, you can start pushing or pulling the cart to your desired destination.
When using a kayak cart, take care when going over uneven surfaces such as gravel or sand. Also, be sure to avoid puddles and other obstacles that could cause damage to your Kayak or Cart.
If you follow these simple tips, you can use your Kayak Cart easily and enjoy many years of hassle-free transportation of your beloved kayak.
Frequently Asked Questions
How do I use a kayak cart on uneven terrain?
The best way to use a kayak cart on uneven terrain is to use the wheels to help you move the cart over the surface. Once you have moved over the uneven surface, you can then pull or push your kayak onto the cart.
Can I use a kayak cart in salt water?
Unfortunately, a kayak cart will not work well in salt water. The wheels will become corroded, making the cart difficult to use. Instead, you should use a beach cart or wagon to transport your kayak from one location to another.
Are there any special precautions I need to take when using a kayak cart?
Always use caution when using a kayak cart. Watch where you are going and avoid obstacles that could cause your kayak to flip over. Also, be careful not to overload the cart or kayak with too much weight.
What should I avoid when using a kayak cart?
You should avoid puddles and other water hazards when using a kayak cart. You also should not use the cart to push or pull your kayak in any direction other than forward.
Related Articles