If you're like me, then you love spending time outdoors kayaking. There's nothing quite like being out on the water, surrounded by nature. But one thing that can take away from experience is lugging your kayak around. That's where a wheeled cart comes in!
A wheeled cart is a great way to easily transport your kayak from your car to the water's edge. But if you've never used one, you might wonder how to put a kayak on a wheeled cart.
Read on for a step-by-step guide on how to put a kayak on a wheeled cart, so you can get out on the water as soon as possible.
Key Takeaways
Unload the kayak from the roof rack and place it on the ground.
Open up the kayak hatch and remove any gear that is inside.
Place the wheel cart next to the kayak.
Put the front of the kayak onto the cart, then tilt it up so that the back end is in the air.
Grab hold of the side of the kayak and lift it, then slide it onto the cart.
Close up the hatch and strap any gear on top of the kayak.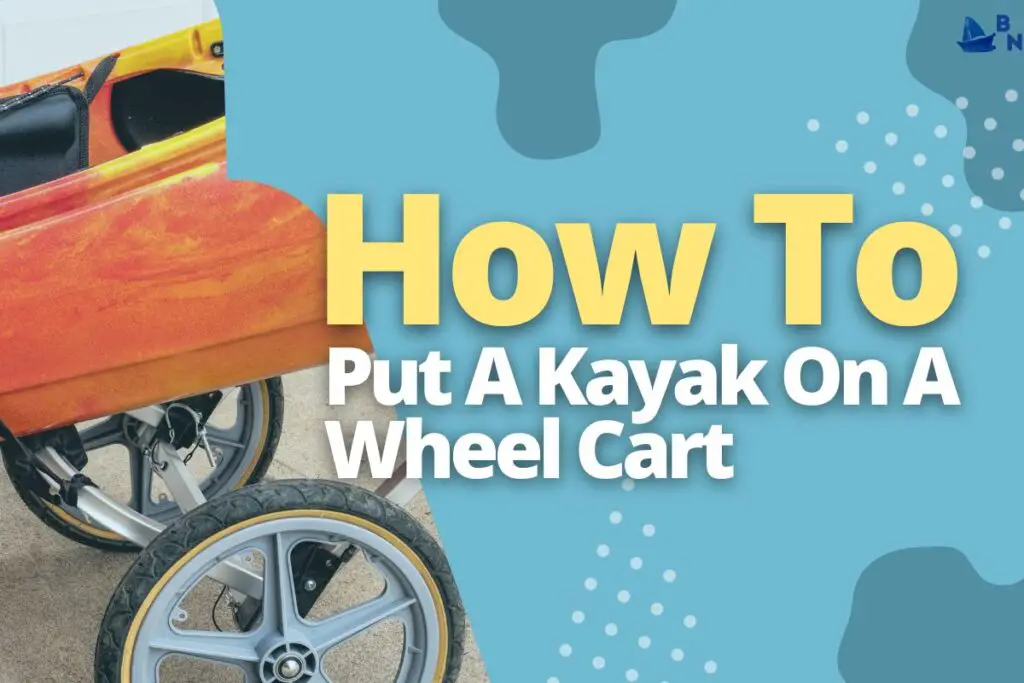 Here's The Answer To How To Put A Kayak On A Wheel Cart
There are a few different kayak carts, but they all have the same basic function: to make moving your kayak from one location to another simpler.
Some kayak carts are designed for smooth surfaces like pavement or concrete. In contrast, others are better suited for rough terrains like sand or gravel.
The right kayak cart is to consider the terrain you'll use it on most often. If you're mostly going to be transporting your kayak from your car to the water's edge, a cart with large wheels and a sturdy frame is a good choice.
For longer distances over uneven terrain, a strap-style cart that can be pulled behind you is a better option. The process of transferring your kayak onto a kayak cart is rather straightforward once you've determined which model best suits your needs.
If your cart has scupper holes, line them up with the scupper plugs on your kayak so that its weight is evenly distributed.
If not, place the hull of your kayak in the cradle or V-shaped portion of the cart, so it's securely in place. Be sure to secure any additional straps that come with your cart before beginning to move it; this will help prevent tipping or other accidents.
A Kayak Wheel Cart Is A Great Way To Transport Your Kayak From The Car To The Water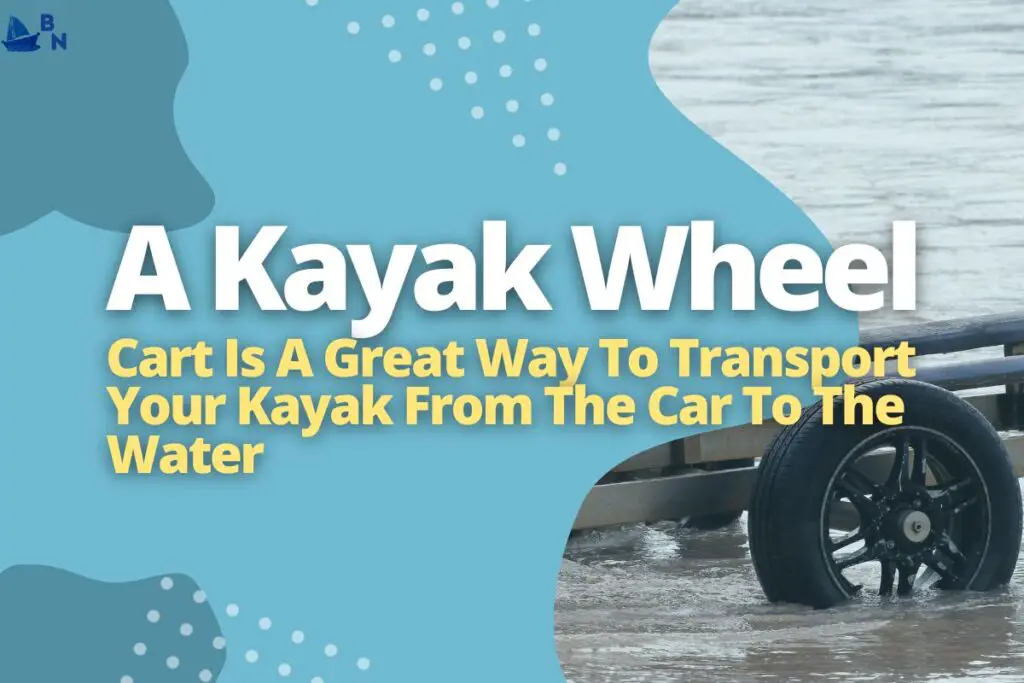 Suppose you are planning to bring your kayak with you on a hike or trip and do not have access to a vehicle. In that case, using a kayak wheel cart is the best way to transport your kayak from the car to the water.
It's simple to take your kayak home when it's time for you to depart as well. Take the cart anywhere you need it by just picking it up.
No need for costly relocation agencies or hefty lifting. The best part? It won't cost much more than $100-$200.
To Put A Kayak On A Wheel Cart, First Lift One End Of The Kayak Onto The Cart
No matter what type of kayak cart you choose, using one is pretty simple. Simply roll the kayak up until its bottom is resting on the top of the cart by lifting one end of the kayak onto the cart.
If your cart has straps, ensure they're tightened so that your kayak doesn't fall off. And if you're using a kickstand-style Kayak Cart with Foam Wheels (like this one from Suspenz), put down the kickstand before loading up your kayak.
There are several ways to get your kayak from the water to your car. You can lift it and drag it or use a kayak cart. If you're going to be kayaking by yourself, a kayak cart is a way to go.
Then, Tilt The Kayak So That The Other End Rests On The Ground
To tilt the kayak, you will want to lift the front end of your kayak and set it down on top of your wheel cart. You can use any sturdy piece of furniture or other objects close by but make sure it's stable and won't slide around while you're working.
Make sure to place it so that all four wheels are even with each other on your cart; otherwise, they won't roll well.
When setting down your kayak, slowly lower it onto its back until both ends touch their respective ground surfaces (if you've got a front deck).
You'll know when both ends are resting on their respective grounds because they'll be level with one another—or at least close enough for government work.
Push The Kayak Up Onto The Cart Until It Is Secure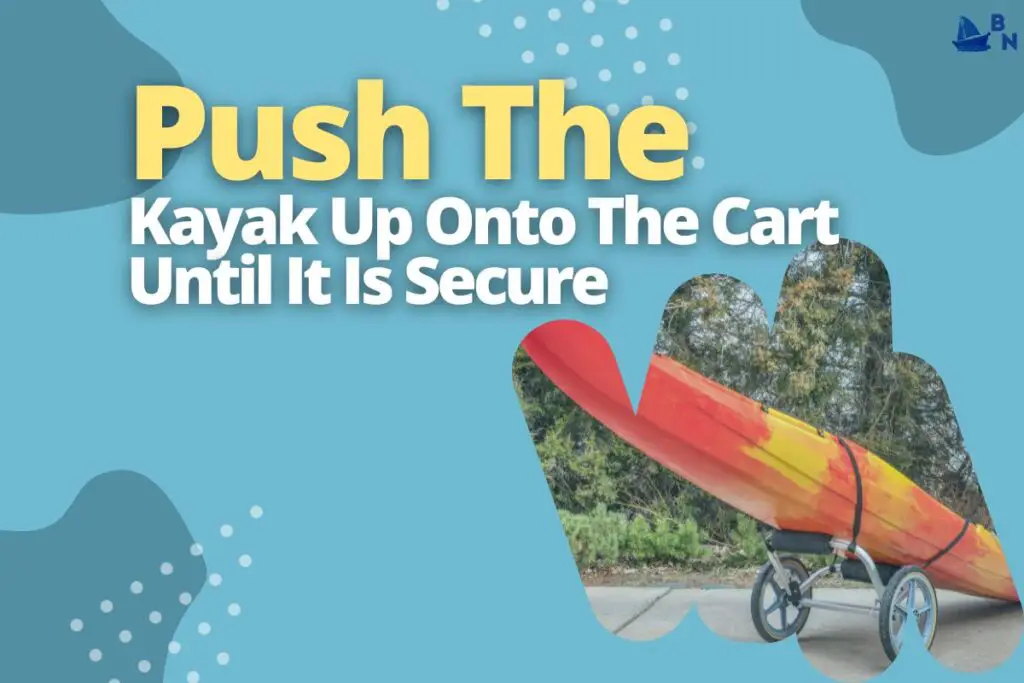 Finally, push the kayak up onto the cart until it is secure. It's important to ensure that your kayak is secure and won't move around while driving. If you're unsure how well it's secured, strap it down with a bungee cord, just in case.
From the parking lot to the boat ramp, a kayak can be transported using a variety of cart styles. Some kayaks come with their dolly, while others must be purchased separately.
For example, suppose you are using your cart in a parking lot or on a paved path. In that case, you will not need as much durability as you would if you used it on a sandy beach or in an off-road environment. Carts also range in price from around $30 to $200, so choosing one that fits your budget is important.
Once Your Kayak Is On The Cart, You Can Strap It Down For Extra Security
If you'd like to make sure your kayak stays securely in place while in the car, then you'll need to strap it down. The straps should be in the middle of the kayak and tight enough to hold it in place.
You should avoid placing any straps directly on your kayak because this could damage its finish. Instead, secure them onto the cart, so they don't scratch or mark up your boat's surface.
Why Might You Want To Put Your Kayak On A Wheel Cart?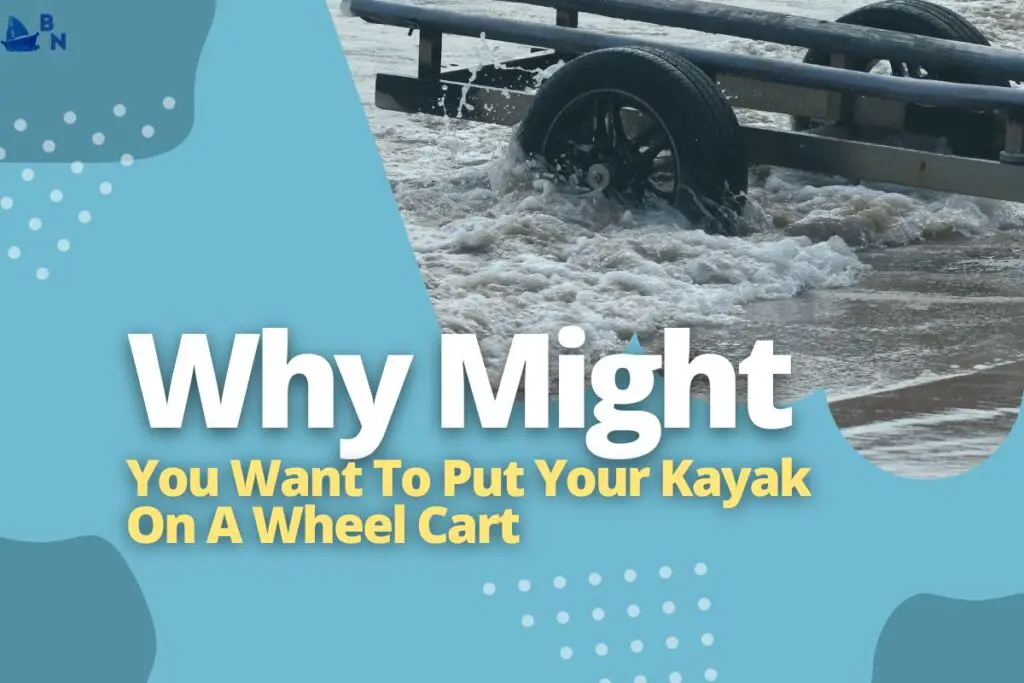 If you are unfamiliar with this concept, it is a great way to move your kayak from the car to the water. The other benefit is that it makes getting your kayak into and out of storage much easier.
If your garage or shed is constrained in space, having a wheeled cart can be super helpful when storing multiple boats and boards.
What Type Of Wheel Cart Works Best For A Kayak?
When searching for a wheeled cart, there are many factors to take into account.
The first thing is that you'll want to ensure that the kayak has a low center of gravity when it's strapped down on your car roof rack. If not, this could cause some issues when driving with your load in place.
The next thing is that you should try and find something lightweight enough. So that it doesn't add too much weight or bulkiness to your vehicle, especially if it has already been used as a tow vehicle in some capacity before (like with ATVs). Not only will this make handling more difficult, but it will also increase fuel consumption while driving long distances!
You should also look into getting something with wide wheels. Hence, they fit snugly over any bumps – especially if traveling on rough terrain or unpaved surfaces where there might be debris like branches, etcetera which could easily puncture through thinner tires/tire sets.
The Pros And Cons Of Putting Your Kayak On A Wheel Cart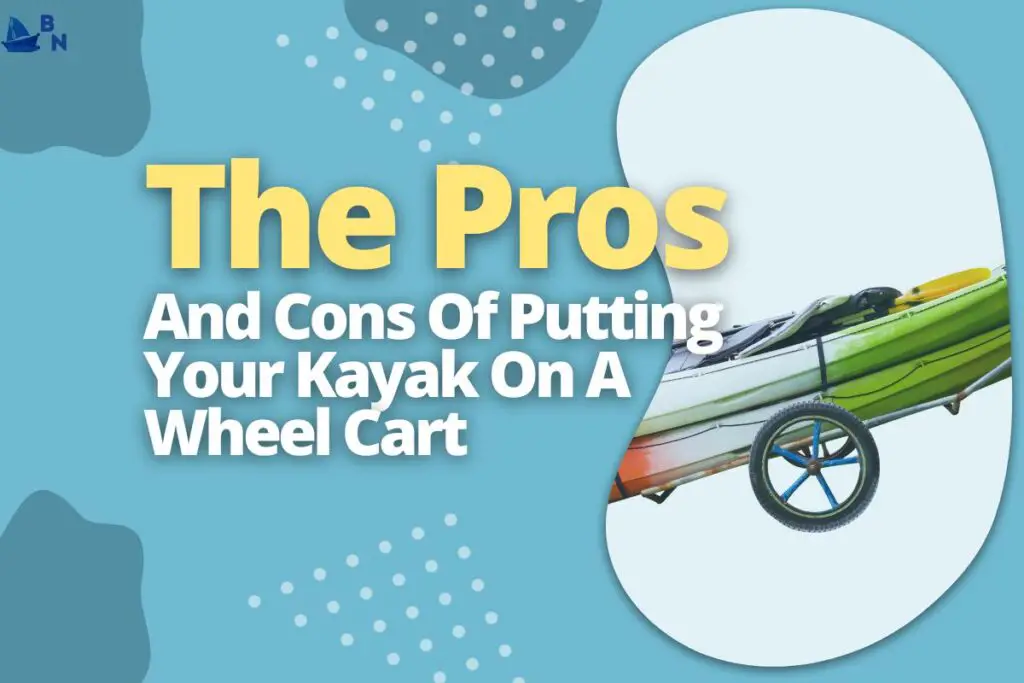 The pros of putting your kayak on a wheeled cart are that it's easy to move around, can be used in the garage and outside, and is a good way to get into the water. The drawbacks are that it costs money and that not all kayaks can use it.
Another idea would be to just take your kayak in one piece with you whenever possible because then you can keep it wherever you want without extra cost or hassle.
Conclusion
I hope this guide has helped you figure out how to put a kayak on a wheeled cart and that the process goes smoothly. I've found that the best way is to lift one end of the kayak onto the cart first, then push it up until both ends rest on the ground.
Then, tilt it down so you can push it up onto the cart when it's ready for transport. Once your kayak is secure, strap it down for extra security.
If you have any questions about putting a kayak on top of a wheeled cart or if there are other methods we didn't cover here at all (we'd love more ideas!). Now that you know how to put a kayak on a wheeled cart, you can easily hit the open water. 
Check out other articles on our website for more helpful tips and tricks, and follow us on social media for updates. Thanks for reading.
Frequently Asked Questions
How can I ensure my kayak is safe while on a wheeled cart?
The best way to ensure that your kayak is safe while on a wheeled cart is to strap it down with high-quality kayak straps. This will keep it in place and prevent any damage during transport.
Do I need a wheeled cart to transport my kayak?
No, you don't necessarily need a wheeled cart to transport your kayak. You can also put it on your car or truck's back. However, using a wheeled cart is often the easiest and most convenient method.
How do I attach my kayak to a wheeled cart?
Most wheel carts will have some sort of attachment system that you can use to secure your kayak. This may be a strap, bungee cord, or other similar devices. Consult your cart's instruction manual for more information on properly attaching your kayak.
Can I use a wheeled cart to transport my kayak on rough terrain?
You can use a wheeled cart to transport your kayak on rough terrain. However, it's important to choose a specifically designed cart for this purpose. Otherwise, you may damage your kayak or the cart itself.
Related Articles