There are many bodies of water that you can kayak in. Some of the most popular include rivers, lakes, and oceans. Kayaking is a great way to explore different areas and get some exercise at the same time.
Want to know more about where you can go kayaking? Keep reading to find out the best places to paddle your kayak.
Key Takeaway's
You can kayak in oceans, bays, gulfs, sounds, lakes, and rivers.
The type of body of water you choose to kayak in will determine the kind of kayaking experience you have.
Kayaking in salt water differs from kayaking in fresh water, and each has its challenges.
Ocean kayaking can be dangerous due to the large waves and strong currents.
Bays and gulfs are usually calm with gentle waves making them ideal for beginners.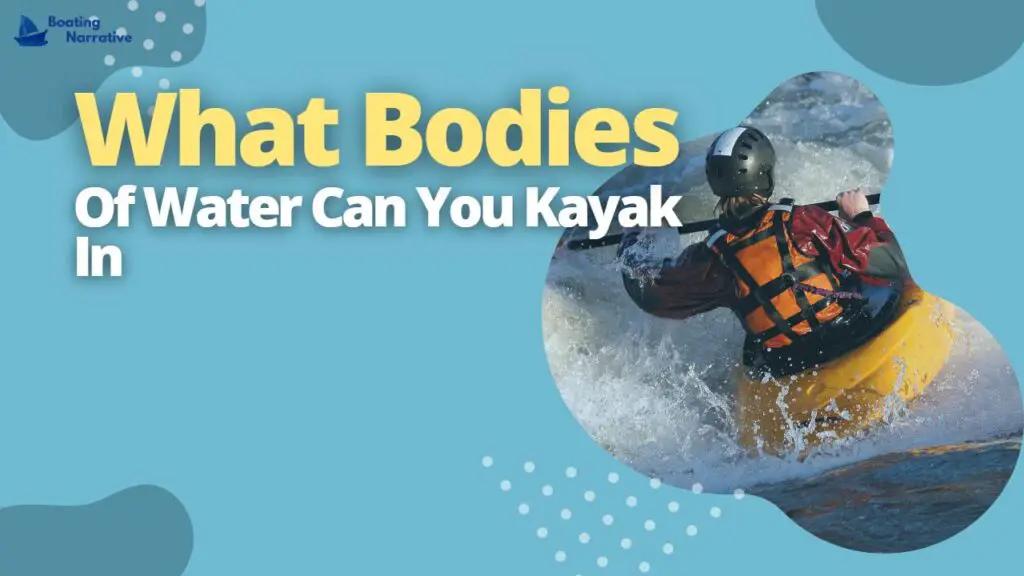 Here's The Answer To What Bodies Of Water Can You Kayak In
Depending on your level of experience and desired environment, there are many different types of water bodies that you can kayak in.
For beginners, calm lakes or slow-moving rivers are ideal. More experienced kayakers might enjoy paddling in the ocean or whitewater rapids.
Here are some different types of bodies of water that you can kayak in:
Rivers: Slow-moving rivers are another good option for beginners. They provide a gentle current that can help you practice your paddling techniques. When canoeing in a river, it's critical to be aware of any potential dangers, such as rocks or low-hanging branches.
Ocean: The ocean is a great place to paddle if you're looking for a challenge. Waves and currents can make conditions more difficult, adding to the excitement. Ocean kayaking is best suited for experienced kayakers who are comfortable in rough waters.
Whitewater: Whitewater rapids are an adrenaline-pumping option for experienced kayakers. These fast-moving waters require quick reflexes and strong paddling skills. If you're up for the challenge, whitewater kayaking is an exhilarating way to enjoy the outdoors.
You Can Kayak In Oceans, Rivers, Lakes, And Streams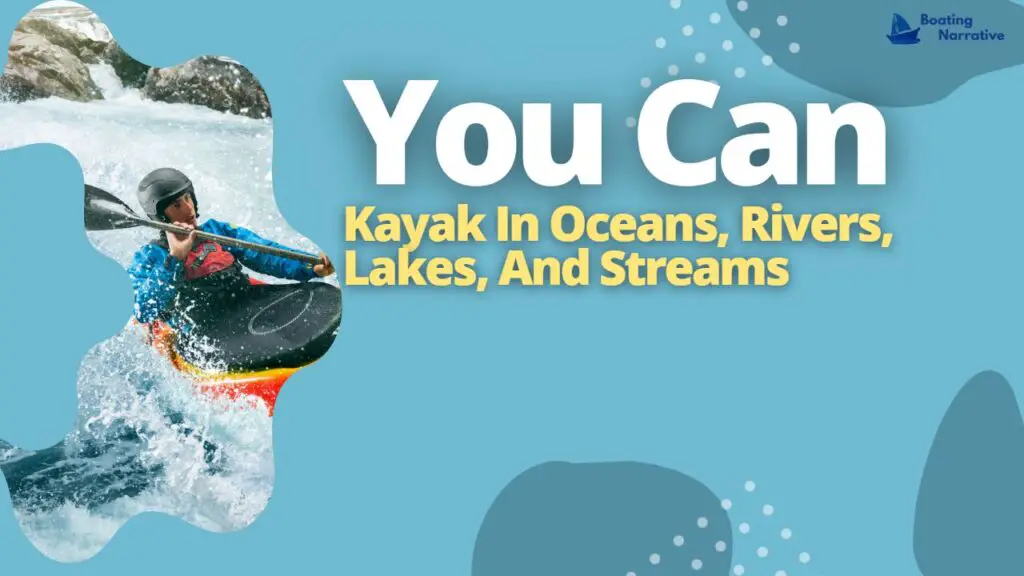 You can kayak in oceans, rivers, lakes, and streams—all you need to do is find the right boat.
Depending on your skill level and the conditions around you, it's important to choose a kayak that is suited to your needs.
Kayaking is a great way to get some exercise while enjoying nature. It's also a fun activity that people of all ages can enjoy.
The Type Of Kayak You Use Will Dictate Where You Can Go
If you have a sit-on-top kayak, for example, it will not be well suited for white water rapids or ocean waves because the cockpit doesn't give you much protection from rough waters.
However, this may be the perfect boat for you if you want to go out in the surf on a calm day and catch some rays.
Suppose you want more security and stability when navigating choppy waters or rapids. In that case, I recommend getting into an inflatable kayak – they are more stable than other types because they have more buoyancy which helps keep them upright when things get rough.
Some Kayaks Are Made For Specific Types Of Water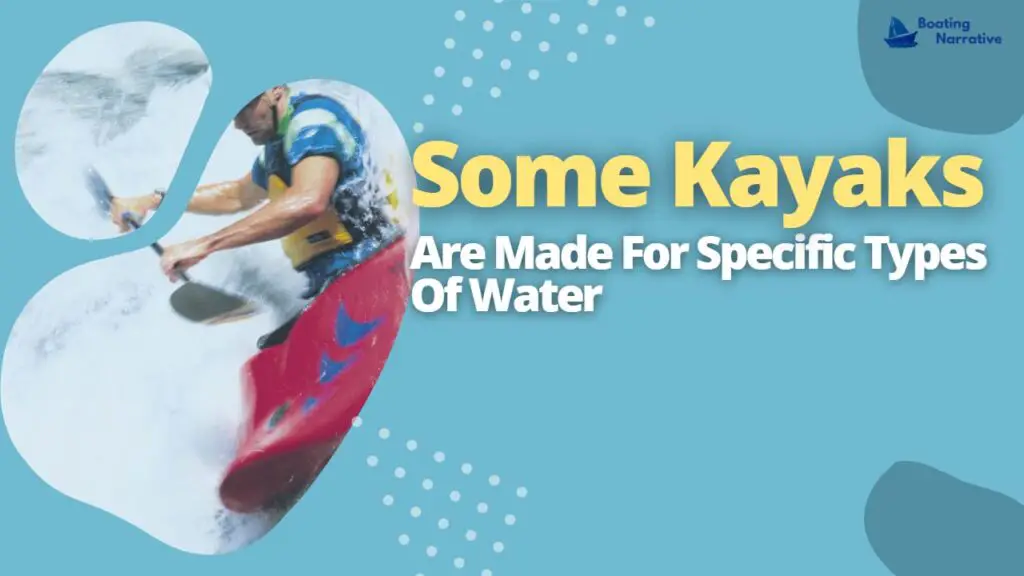 Some kayaks are made for specific types of water.
River kayaks are often narrow and fast, while ocean kayaks tend to be more stable and wider in the beam. Kayaks for lakes and ponds can be either of these two types or a hybrid. River kayaks are short and wide so they can cut through rapids as efficiently as possible; ocean kayak hulls are longer, so they don't flip over as easily when waves hit them from behind (and offer more stability).
You Need To Be Aware Of The Conditions Before Heading Out
Before you head out on your kayaking adventure, it's important to be aware of the conditions.
Weather. Check the weather before you go, and ensure there aren't any storms or other severe weather in your area.
Water Temperature. The temperature of the water will affect how long you can stay in it and how much protective gear you need to wear while kayaking around it—this includes anything from hats to sunscreen lotions.
Currents/Underwater Hazards & Other People on the Water: These things can be dangerous if not considered before going out onto a body of water, whether by windsurfing or fishing from a pontoon boat (if someone falls overboard or gets swept away by a current).
Always Wear A Life Jacket And Follow All Safety Regulations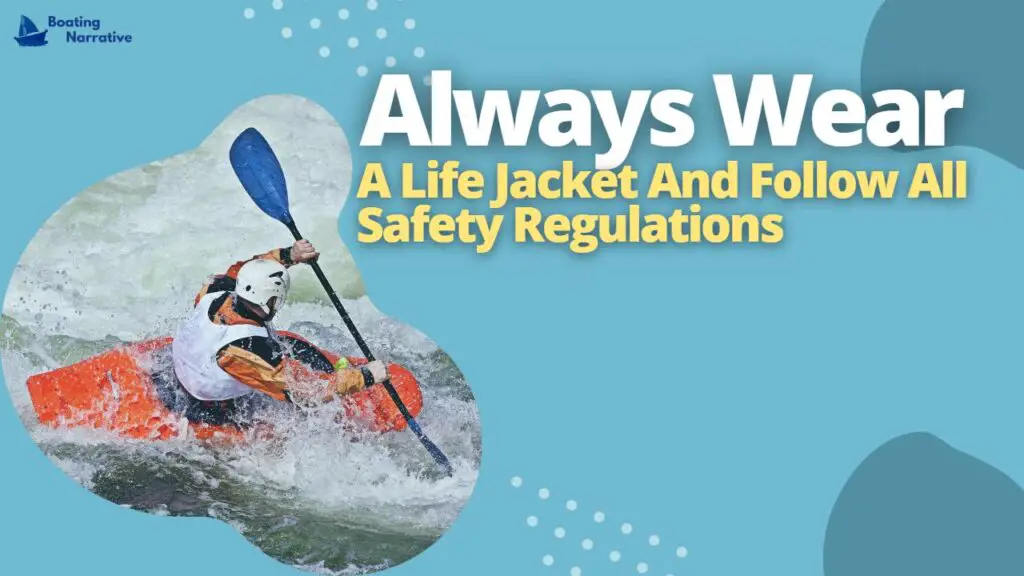 It's important to remember that kayaking is an extreme sport, so you should always wear a life jacket.
And while we know, that's the obvious thing to do. It's not just for safety reasons—it's also because having fun on the water is a great way to get good exercise. If you don't want to wear one, maybe kayaking isn't for you.
In addition to wearing your life jacket and following all safety regulations (like not kayaking alone), ensure that the water isn't too rough or cold before getting in it.
Don't forget: even if you're an experienced sailor who knows how to paddle like nobody else, if conditions are unsafe or dangerous, don't go out there.
How To Safely Enter And Exit A Kayak In Different Bodies Of Water?
You've got to be careful when exiting and entering a kayak. Some bodies of water are rife with rocks, logs, and other obstacles that could result in an injury if you're not careful.
When choosing your kayak, ensure it's the right size. You don't want your legs or arms to have too much or too little room, or worse yet, you don't want to get stuck inside the kayak with nowhere to go.
Practice entering and exiting the kayak before you go out on the water so that it won't feel awkward when it comes time to do so.
What Are The Dangers Of Kayaking In Different Types Of Bodies Of Water?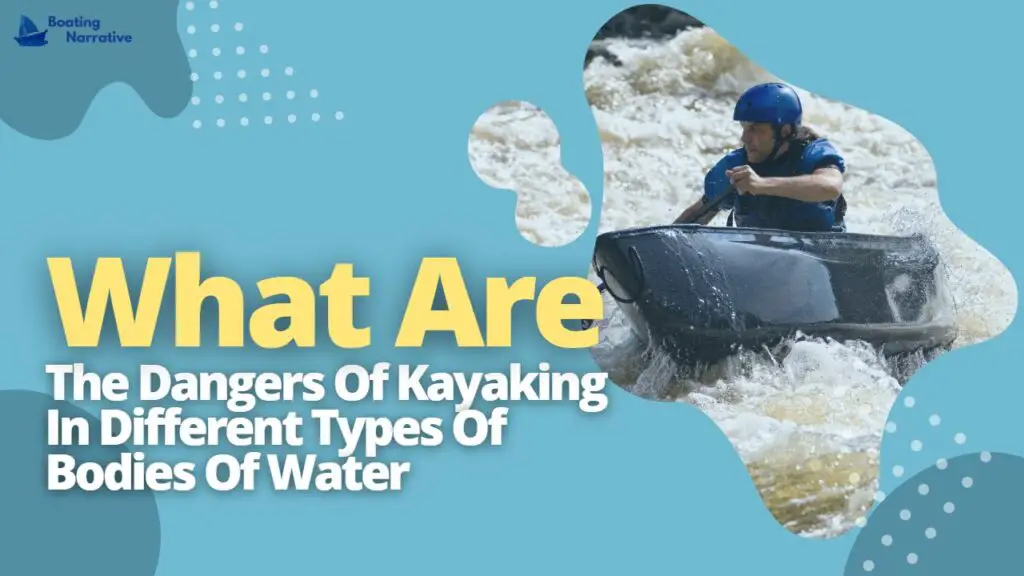 When you kayak in the ocean, there are several dangers to keep in mind. These include tidal changes and currents, ice, extreme weather, sharks, and whirlpools.
If you're planning on kayaking on freshwater lakes or rivers, there are also dangers like pollution, debris, and strong waves.
Some bodies of water don't allow any type of watercraft to be used, so check before you go.
How Can You Stay Safe While Kayaking In Different Types Of Bodies Of Water?
As you can see, there are numerous waterways where you can kayak. However, it's important to remember that no matter where you are, some risks will always be involved.
There is no such thing as a completely safe environment for the outdoors.
However, you can minimize the risk by doing your homework before heading out and following these tips:
Always wear a life jacket
Follow all safety regulations
Be aware of any conditions (like weather) that could affect your trip
Also, remember that a partner is crucial if something goes wrong while kayaking; they might be able to help rescue you if necessary.
In Summary
There are many different types of bodies of water that you can kayak in, including oceans, rivers, lakes, and more. Kayaking is a great way to get outside and enjoy the water. It is also a great workout. You can kayak by yourself or with a group.
There are many different places to kayak. You can find a place to kayak near you by simply searching online.
If you're interested in learning more about kayaking or other outdoor activities, check out our website for more articles. You can also follow us on social media for updates on new articles and events.
Frequently Asked Questions
What types of water can you kayak in?
You can kayak in the ocean, river, lake, and more.
How do you kayak?
There are many different kayak styles, but the basic principle is to sit in the kayak and paddle with your arms and legs.
Is it easy to tip a kayak?
No, kayaking is not easy to tip. You must use powerful strokes and be in good physical condition.
What do I need to go kayaking?
You'll need water shoes, a kayak, and some orange flagging in case of rocks or other submerged hazards.