I've always wanted to go canoeing. And I love dogs, so I thought I might want to take my dog canoeing with me. However, I've never heard of somebody paddling a canoe with their dog.
So I decided to do some research. It turns out that you can take your dog in a canoe. You have to be smart about it. You still want to ensure your dog is comfortable and not too stressed out. 
You also want to make sure he doesn't suffer any injuries. I'll cover all you need to know in this blog to travel safely with your dog.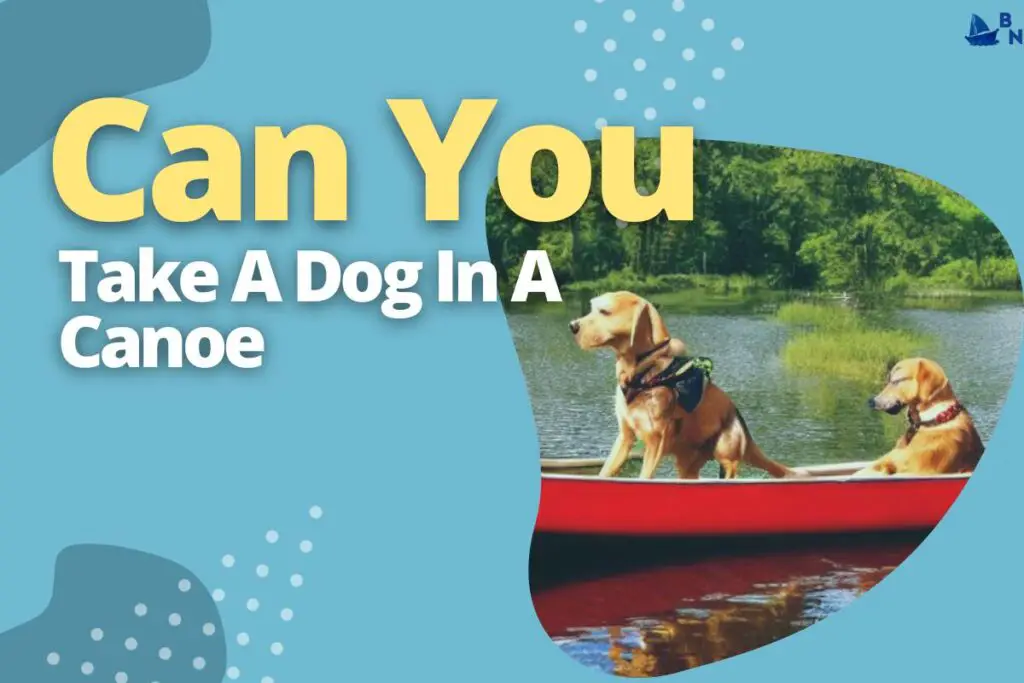 Here's The Answer To Can You Take A Dog In A Canoe
Yes, you can take a dog in a canoe, but there are a few things you need to keep in mind. Your dog's size should be taken into account first. Small dogs are simpler to handle than huge dogs.
Secondly, consider your dog's swimming ability. Your dog will be less likely to tip the canoe if it is a strong swimmer. Last but not least, remember to give your dog a life jacket. This will help them stay afloat if they do fall in.
With some planning, you can safely take your dog canoeing with you. Just be sure to take some basic safety precautions, and you'll be able to have a good time spending the day on the lake with your pet.
Here are some great tips for taking your dog canoeing:
Make sure that your dog can swim well.
Your dog will need a bed or mat to keep them comfortable.
Don't forget to give your dog a life vest.
You will need a first aid kit for you and your dog.
Your dog will need a leash.
Choose a calm day to go canoeing.
Paddle in the middle of the canoe.
Make sure your dog is not a distraction.
Have a wet cloth to cool down the dog, if necessary, in the canoe.
Only Small Or Medium Dogs Can Fit In A Canoe Comfortably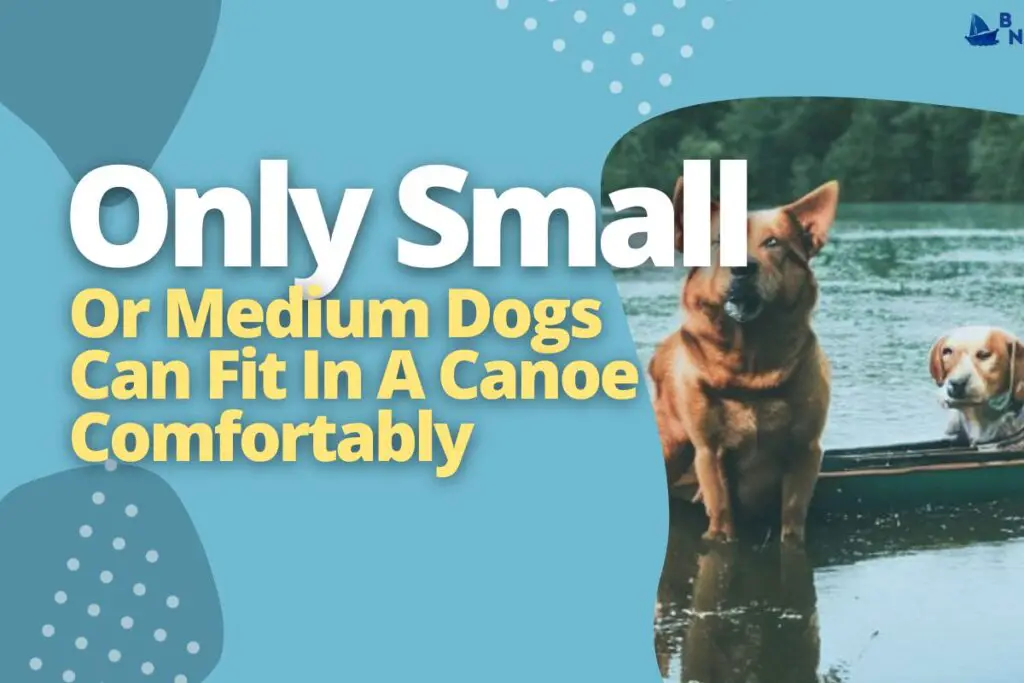 It's not very comfortable for any large dog to be on the water unless trained to paddle with you. Big dogs tend to get tired quickly, and their weight may make it difficult to paddle as fast as you want them to.
However, if your dog is small enough, it will probably be able to make it through easily. Therefore, by all means, take your dog on your canoeing outings if it weighs less than 50–55 pounds.
But it's generally not a smart idea to bring your dog with you if he or she is bigger, even slightly. It's simply too difficult for them to paddle safely and comfortably with you in the canoe.
It Is Dangerous To Take A Dog On The Lake In The Cold
The first thing to consider is the temperature of the water. It is essential to know that cold water can cause hypothermia and other health problems in animals, and this can be particularly dangerous because your dog cannot tell you when they are starting to feel bad.
If it's too cold for a human, it's too cold for your dog. If you're paddling a canoe, it's best if you don't leave them alone in the boat while you take care of other things on shore.
They may jump out if they feel bored or distracted by something. This is particularly true if they have never encountered such circumstances.
Dogs have instinctual responses designed to keep them warm even when humans don't realize how cold it has become.
Take Your Dog Along With You If You Go Fishing When There Is Not Much Movement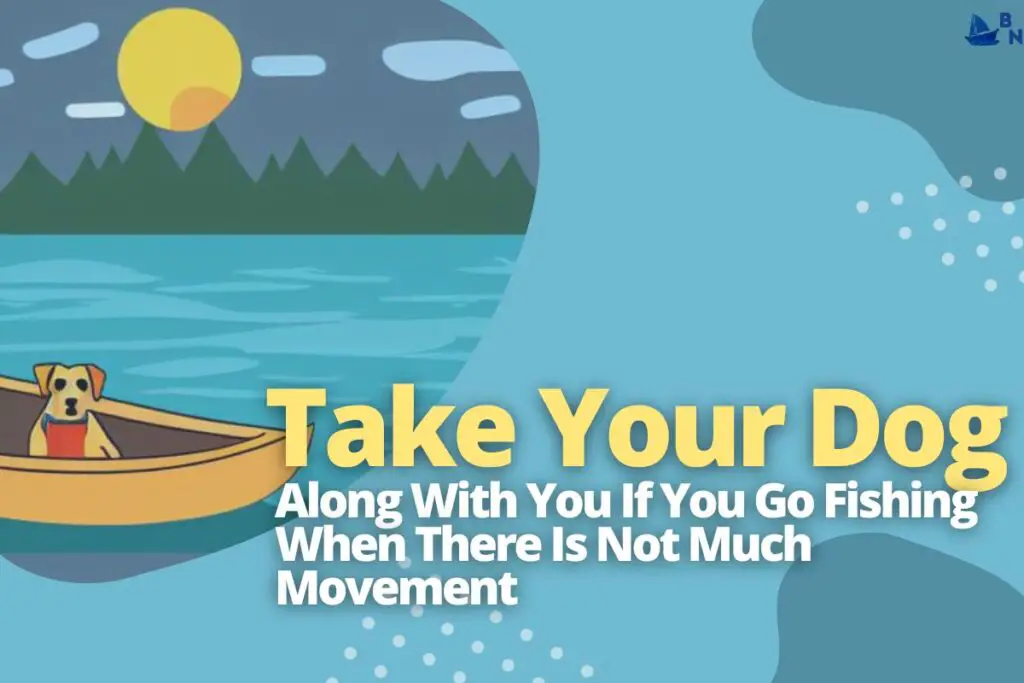 If you take your dog with you when fishing, there are some things to remember. Your dog must be able to sit still for long periods.
The canoe will not move around much, so the dog will have plenty of time to rest and relax. Your dog needs to be trained to sit or lay down on the canoe's floor easily.
The more comfortable your pet is with its surroundings, the better off everyone will be during this trip. Finally, make sure that your canine companion knows how to swim.
You never know what might happen while out on open water, if something happens and they get tossed overboard (yes, this has happened before).
Then they need enough time without panicking because they won't know how but just swim back towards shore, where hopefully someone will see them right away.
You Should Always Wear A Life Jacket When Taking Your Dog
While wearing a life jacket is recommended, the same applies to your dog. The dog should wear a life jacket, and you should be taught how to put one on your pet before you go out on the water.
If something happens and you both end up in the water, your dog will be safe. Dogs are good swimmers, but they can tire quickly and may not be able to make it back to the canoe if they fall overboard.
Personal flotation devices (PFDs) come in all shapes and sizes, so you can find one that fits your pup perfectly. Look for one that has a handle on the back – this will come in handy if you need to lift your dog out of the water.
Some dogs are better candidates for canoeing than others. Especially if your dog is easily aroused or distracted, it might not be their best activity. If your dog is calm and loves the water, they're probably a good candidate for canoeing.
Make Sure The Dog Isn't Afraid Of Swimming
Your dog should not be afraid of water for a successful canoe trip. So if you have a dog afraid of swimming or getting in the canoe, it's best to leave them home.
If they are afraid of falling out of the canoe, they will jump out once you stop paddling and may fall into the water. The same goes for dogs scared of tipping over because they may jump out when you stop paddling and tip over into the water.
You Cannot Take A Dog In A Canoe If It Is Not Trained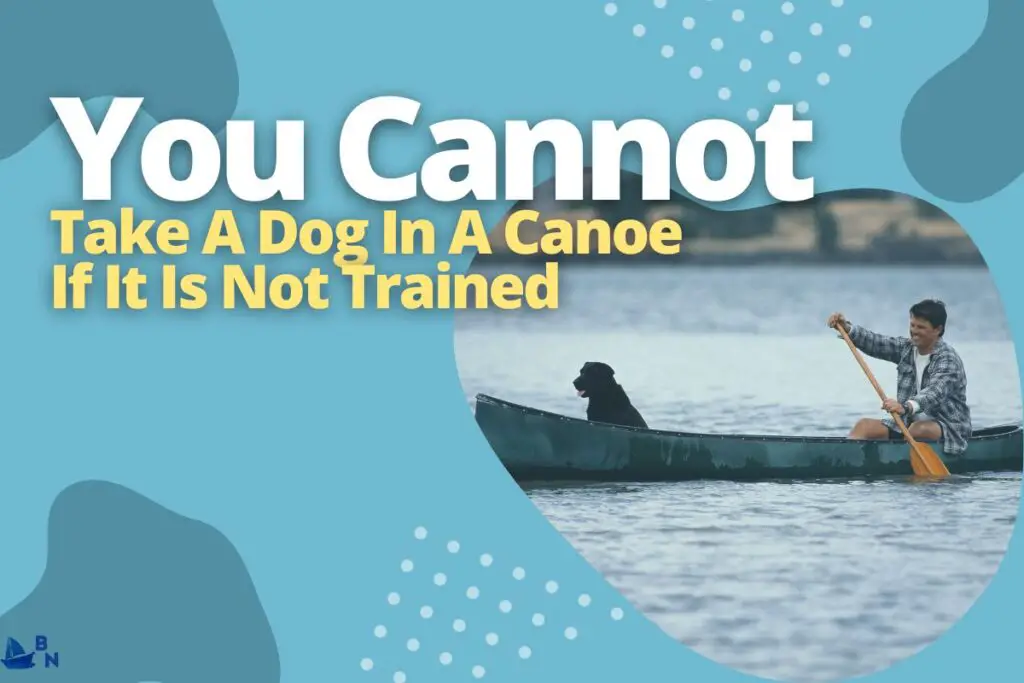 This is because a dog is not safe in a canoe if it is not trained. A paddler's first step in training a dog to be safe in a watercraft is ensuring the pet parents know the basic obedience commands.
The next step is to decide where the dog will be during outings. The dog should have easy access to the canoe but should not be able to jump out. A handle on the dog's back is a nice feature to have.
This gives the stern paddler a way to hold on to the dog if it gets excited and tries to jump out of the canoe. The dog should also have sure footing.
This can be achieved by putting a nonslip mat in the canoe. The dog should be able to sit or lie down on the mat. The mat should also be big enough for the dog to turn around.
It's a good idea to train your dog to be comfortable in a canoe before taking them on the water. They need basic training and experience with water, or else you may find yourself struggling with an unruly pooch.
Train dogs to be comfortable in canoes
Train dogs that are not afraid of the water
Train dogs that are not afraid of life jackets
Train your dog to wear a life jacket on dry land
What Conditions Are Required For Taking A Dog In A Canoe?
A few conditions must be met to take a dog in a canoe. First, the dog must be comfortable with camping and short trips.
Additionally, the dog must be okay with launching and being in calm water. Finally, the dog must be safe for the paddlers and have a nice handle on the canoe.
Dogs love camping, especially when they get to go on short trips in the canoe. Launching and paddling are great ways to get your dog used to the water, and calm water is perfect for a day trip.
Of course, you want to ensure your dog is safe and comfortable in the canoe.
A paddler's or life vest is a great way to keep your dog safe, and a nice handle on the canoe will make it easier for you to control the canoe on your trip.
Remember to land on solid ground when you're finished canoeing for the day.
How Do You Make Sure Your Dog Does Not Fall Out Of The Canoe?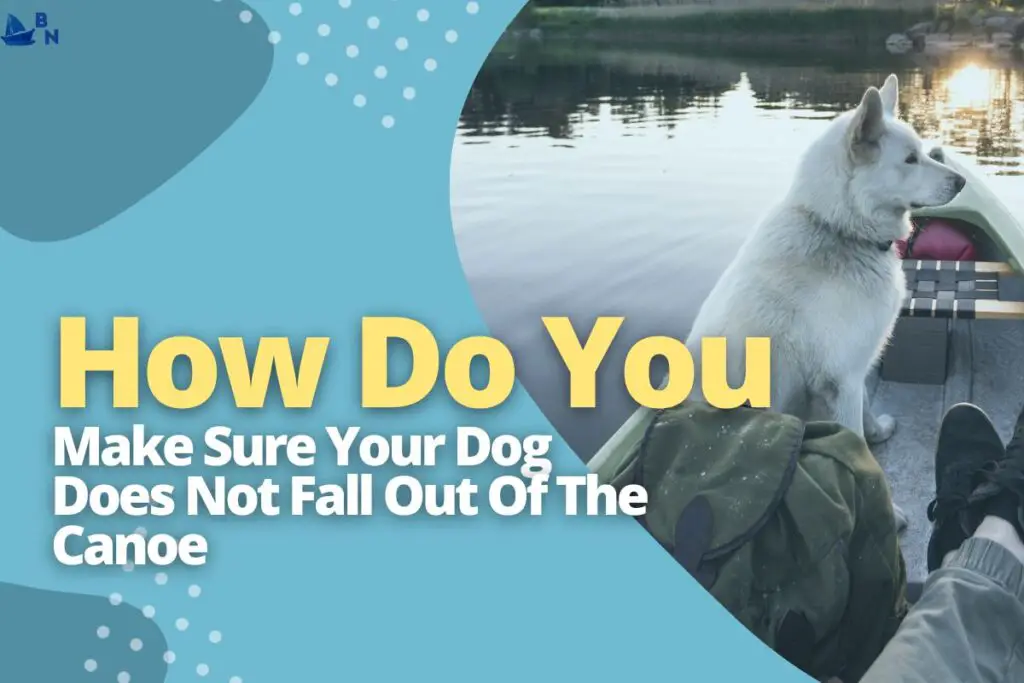 First, you can invest in a dog life jacket. This will help keep your dog afloat if he does fall in the water. Second, you can train your dog to stay in the canoe. This may take time and patience, but it will be worth it in the end.
Third, you can ensure that the canoe is secure and that there is no way for your dog to fall out. This may mean tying the canoe to a tree or another object.
Fourth, you can keep a close eye on your dog while you are canoeing. This way, you will be able to see if he starts to get too close to the edge of the canoe.
This will ensure he does not get tangled in the lines or paddles when you paddle alone. As you paddle about the lake, you may also place him in a crate to keep him safe and secure.
When it comes to training, it is best to make sure that your dog has been trained how to swim before bringing them along with you on a trip where they might fall out of the canoe or kayak onto open waters as there would be no way for them to get back into their vessel without help from one of us humans.
Is It Dangerous To Leave A Dog Alone In The Canoe?
While going fishing, leaving your dog in the canoe alone can seem like a brilliant idea, but it's not. The dangers of doing so are many. Your dog might get out of the canoe if you leave it there by itself.
When this happens, they will likely drown because they cannot swim very well. Also, if you leave your dog alone in the canoe and someone steals it, your beloved pet could get lost forever or even be killed by another animal that finds them in the canoe.
To avoid any problems with leaving Fido behind when out on the water, bring along some toys so they can amuse themselves while waiting for you to get back from catching dinner (or whatever).
Conclusion
As you can see, taking a dog in a canoe is not always safe—however, some conditions under which you can take your pet on an outdoor trip.
If your dog is trained, has no fear of water, and enjoys swimming, it would be ideal for taking him or her along.
Thanks for reading. Do you want to learn more about canoes and paddles? Check out our blog post on what types of canoes are available and a brief history of canoes.
We also have a blog post on how to take your dog canoeing! So check it out, and be sure to read more posts on our website.
Frequently Asked Questions
Will my dog be scared if he's not used to boats and water?
Most dogs will be a little apprehensive at first when in a canoe. However, with proper training, most dogs can get used to taking trips in boats and even paddleboats. If your dog is unaccustomed to the water or boats, it may be best to start with short outings on calm waters until they get more comfortable. Additionally, until your dog is comfortable in the canoeing setting, you should refrain from taking him on trips on open water.
I'm thinking of taking my dog on a canoe trip. What should I do to prepare him?
You can do a few things to prepare your dog for a canoe trip. One is to take him swimming with you in calm water, so he gets used to the environment and boat. Another is to buy a paddle board so that he can sit in the water. This will make getting into the boat much easier since he won't be afraid of falling in because there's a safety cushioning device between him and the water. Finally, make sure you have plenty of treats, toys, and chew toys on hand, so Fido has something good.
How can I ensure my dog is comfortable and entertained during our canoe trip?
One of the best ways to ensure your dog is comfortable and entertained during a canoe trip is to provide plenty of toys, treats, and water. Additionally, ensure you take all necessary precautions with safety in mind when paddling with your dog by following our tips on training a canoeing dog. Lastly, be sure to have a good time while enjoying the beautiful nature surrounding you.
Should we bring any food or treats on the canoe trip in case our dog gets hungry or thirsty?
Bring food or treats on a canoe trip if your dog gets hungry or thirsty. However, if your dog gets restless and starts begging for food or water, be sure to provide it while paddling. Also, make sure you have a leash handy in case Fido needs to be redirected during the paddle portion of the canoeing trip.